Taxi driver Ethsham Ghafoor shooting: Suspects bailed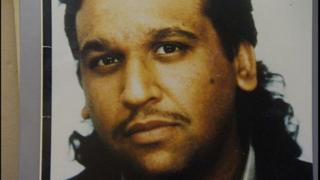 Two men arrested on suspicion of the 1994 murder of a taxi driver have been released on bail.
Ethsham Ghafoor, 26, was killed in what police called an "execution-style" shooting while sitting in his taxi in Lambley Lane, Gedling, Nottinghamshire.
The men, aged 42 and 43, were released on police bail while further inquiries are carried out.
Last year the family of Mr Ghafoor, known as Shami, launched a campaign to find information about his death.
In a statement released online, the family said they were aware of the arrests and were "pleased" with the latest developments.
It read: "It shows that the police, like us, are still determined to find out who killed our Shami and see them brought to justice."