Stop and search: Nottinghamshire Police joins online pilot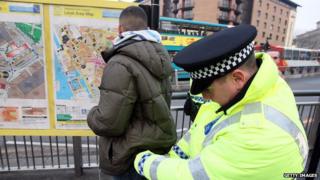 A second police force is to join a pilot scheme to map exactly where it uses stop and search powers.
Nottinghamshire Police will record on a national website everywhere it has used the powers, which include stopping a person without suspicion where serious violence is anticipated.
Assistant chief constable Simon Torr said he wanted more transparency.
West Mercia Police joined the pilot when it was announced by Home Secretary Theresa May last month.
'Ask questions'
Every police force in England and Wales has agreed to adopt a new government code of conduct on the use of Section 60 powers to stop and search members of the public.
Officers will need higher authorisation than at present to deploy the powers and police will also soon allow public observers to watch a stop and search in operation.
Mr Torr said: "People should be able to see we're using it in an area where there's a particular crime spike to keep them safe.
"We want to be transparent. We want the public to look at how and where we're using stop and search so they can ask questions of us."
He said more detailed information about each occasion on which the power was used could be added to the map after the scheme was rolled out nationally next year.
The pilot is set to start this autumn and run until the end of the year.