Scott Humphrey jailed for stag party killing of Richard Rovetto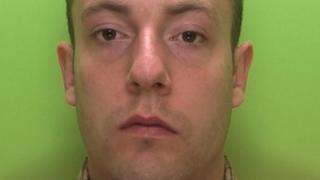 A man has been jailed after he admitted killing his friend during a drunken fight.
Richard Rovetto, 29, fell to the floor and hit his head after being punched by Scott Humphrey, 26, in the street.
They had been at stag party in Mansfield on 27 July. Mr Rovetto, a father-of-one, died in hospital.
Humphrey, of Queens Bower Road, Bestwood Park was jailed for four years and four months at Nottingham Crown Court.
He pleaded guilty to manslaughter on 18 August.
Det Con Insp Rob Griffin said: "Humphrey has devastated the lives of Richard's family and he has also changed his own life forever by what he has done.
"By striking out and causing Richard to fall and hit his head, the tragic consequences of that night have affected many people."