Nottinghamshire fire engine drivers at fault in 90% of crashes, study shows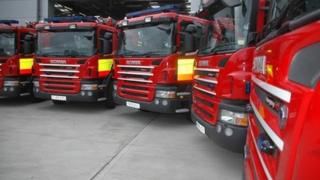 About 90% of "blue light" accidents involving fire crews were the fault of the engine driver, according to a local authority study.
The fire engine driver was at fault in 79% of accidents under normal conditions, the study also found.
Nottinghamshire fire service said the number of accidents caused by fire engine drivers was "worrying".
The service was "working hard on driver awareness ... and training packages for drivers", a spokesman said.
Nottinghamshire's deputy chief fire officer Wayne Bowcock said: "We want to be role models for safe driving so we have some work to do to achieve that.
"The fact that service drivers are still at fault for three-quarters of the accidents occurring under normal road use means that we cannot simply point the finger at the general public."
Overall, the number of accidents involving emergency vehicles has fallen to about 50 a year - a reduction of 20% - over the past seven years, the 2007-2014 study found.
The report said the majority of accidents occurred "manoeuvring", which includes reversing, grounding of the vehicle and negotiating narrow spaces.
The service's current driver training involves an initial two-week course followed by a two-hour assessment every two years.
Blue Light Aware
When you see a fire engine light or hear a siren pull over to the side if possible
Do not break the law or do anything dangerous
Do not mount the kerb
The report said three major accidents involving fire engines in the past seven years - all the fault of the fire service driver - were caused by "excessive speed" for slippery road conditions.
The total number of fire call outs in Nottinghamshire has fallen from 24,000 in 2003 to 9,800 in 2013.