Warsop's Meden Sports Centre to 'reopen in January'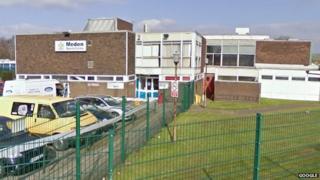 A sports centre that closed over safety fears is expected to fully reopen in January.
Meden Sports Centre, in Warsop, Nottinghamshire was shut at short notice in August after an inspection identified fire safety concerns.
Users feared Mansfield District Council wanted to use the problem as an excuse to shut down the facility permanently.
However, the authority has now appointed a contractor to start repair work on 13 October.
Councillor Philip Shields, from the district council, said: "I am pleased that work on the final repairs is due to start shortly and I look forward to the centre reopening early in the new year.
"We are sorry for the inconvenience caused by the closure but the safety of customers and staff is our prime concern."
The sports hall reopened on 15 September but the pool area will be shut until work is completed in January.
Memberships have been frozen throughout this period and swimming lessons moved to the nearby Rebecca Adlington Swimming Centre.