University of Nottingham students filmed in necrophilia chant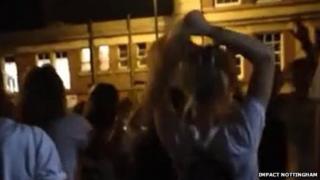 A students' union is investigating some of its representatives after footage emerged of them leading first years in a chant about violence and necrophilia.
The University of Nottingham group was filmed outside the Capital FM Arena during fresher's week.
The chant included the line: "Now she's dead, but not forgotten, dig her up and **** her rotten."
The union said it was investigating whether the representatives had breached a code of conduct.
A contract signed by the student reps states they will not promote the singing of abusive, offensive, crude or intimidating chants and songs.
'Appropriate action'
According to Impact, the university's student magazine, the students were from Cavendish Hall, an accommodation block on campus.
The video published on YouTube, on Friday, shows a mixed group of people chanting about having sex with a woman.
The last two lines of the songs they sing are: "Now she's dead, but not forgotten, dig her up and **** her rotten. You wish, you wish, you wish you were in Cavendish…"
A spokesman for the Students' Union said: "We are taking the issue very seriously and the investigation is ongoing.
"We would like to assert that appropriate actions will be taken against anyone found to be culpable".
A University of Nottingham spokesman said: "The University does not tolerate behaviour of this kind from its students, and is currently supporting the Students' Union with an investigation into this matter.
"We expect all of Students' Union representatives to adhere to a strict code of conduct and, if this is breached, we ensure that appropriate action is taken."