Nottingham 'ghost bike' memorial to Louise Wright to be removed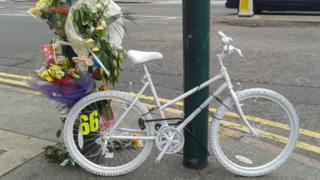 A special 'ghost bike' tribute left at the scene of a fatal accident is to be removed as it distracts motorists.
The white painted bicycle was anonymously attached to a lamppost in Nottingham city centre where cyclist Louise Wright was killed in July.
The 29-year-old died following a rush hour collision with a lorry on Lower Parliament Street.
The city council said it had consulted with Ms Wright's family to remove the bike and create a permanent memorial.
Flowers and the bike have remained at the scene since the crash.
However the city council said it now risks becoming an obstruction to pedestrians and distracting drivers.
A council representative said they would give the owner of the bike a month to collect it if they wished, otherwise they would remove it.
Meanwhile, Ms Wright's family and partner James Faulkner have been speaking to the council about the possibility of building a permanent memorial to her.
It will be placed close to proposed cycling facilities which will pass through a new public square close to where the accident happened in Pennyfoot Street.
Leaving a white bike at the scene of a fatal crash started in the United States but has been a growing phenomenon across the UK over the last few years.