Rorke's Drift soldier John Manley gets Nottingham memorial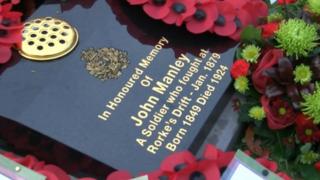 A memorial for a soldier who fought in the Battle of Rorke's Drift has been unveiled at a Nottingham cemetery.
Pte John Manley survived the battle and was buried in an unmarked grave in Carlton Cemetery, with his involvement in the famous 19th Century battle going unrecognised.
It was featured in the film Zulu starring Michael Caine.
Military historian Tony Higton, who organised the new memorial, said: "It has been an emotional day."
Communal plot
A small group of British and colonial troops held out against an assault by 4,000 Zulu warriors in the 1879 battle.
Irish-born Pte Manley, who was a member of B Company 2/24th Warwickshire Regiment, first defended the hospital at Rorke's Drift and then the stores, Mr Higton said.
"John Manley was a brave man... who did not receive any recognition," Mr Higton.
After returning from the war, Pte Manley became a house painter and had six children after marrying Ellen Carroll.
Zulu battle
The battle began on 22 January 1879 and continued until the early morning of the following day
It was part of the Anglo-Zulu war which broke out after the British invaded southern Africa
The British victory in the war caused the end of the independent Zulu nation
The British and colonial forces suffered 18 losses while Zulu losses were estimated at about 600
The events formed the basis of the Michael Caine film Zulu in 1964
Mr Higton said: "He passed away in October 1924 and is buried in Carlton Cemetery in a communal plot, until now with no memorial. That has now been rectified."
Jan Jarvis, Pte Manley's great-granddaughter, thanked the members of the Diehard Company re-enactment group for attending the ceremony.
"We are overwhelmed and emotional that we can now come to visit his grave and pay homage to John," she said.