Nottingham dog owner banned after pet attacked woman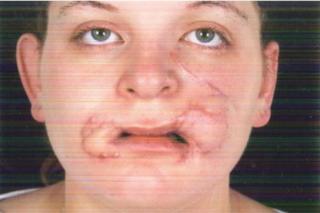 A woman has been banned from owning animals for life after her dog mauled her pregnant friend, tearing off part of her lip and almost killing her.
Laura Holmes, 21, tried to escape the Akita dog by shutting herself in a bathroom.
Tracie Taylor, 49, of Hope Close, The Meadows, Nottingham, admitted allowing her dog to be out of control.
She was told to pay Miss Holmes £1,000 in compensation and was given a 16-week jail sentence suspended for 12 months.
Taylor was also handed a 12-month supervision order at Nottingham Magistrates' Court.
Miss Holmes, who was 29 weeks pregnant at the time, has not been able to bring herself to speak to her friend since the attack.
She said: "When that dog jumped on me I had no time to react. It was so quick. He just didn't want to let me go.
"But while he did this to me, it wasn't his fault."
Doctors said she and her unborn son could both have died.
The dog called Koda, which was nine years old, has been destroyed.
Miss Holmes said: "I couldn't look at myself in the mirror for weeks afterwards.
"When I eventually forced myself I just wanted to crawl into bed and not get up again.
"It's hard going outside because people stare at me and jump to conclusions.
"I'm really conscious about not scaring children."
'Son keeps me going'
Miss Holmes could not give birth naturally because there was too much risk of rupturing her wounds, and she still finds it difficult to leave the house.
"At 15 weeks old now, Nathaniel keeps me going," said Miss Holmes.
"He's the one who gets me out of the house. I just want to be the best mum I can be to him.
"But I still haven't been able to bring myself to have a photograph taken with Nathaniel.
"These are the sort of things that no amount of punishment by the court can take back."
The dog attacked Miss Holmes at Taylor's home on 14 May, the day after the Dangerous Dogs Act was amended.
Dog owners are now liable for prosecution regardless of where an attack takes place. Previously they could not be prosecuted if the attack happened at their own property.
Dogs Legislation Officer PC Steve Feary said: "I believe this is the first conviction of its kind for Nottinghamshire since the change to the laws. It is one of the first for the country.
"I hope this serves as a reminder that being a pet owner, and particularly a dog owner, brings with it accountability."