University of Nottingham students 'sacked' over sexist chants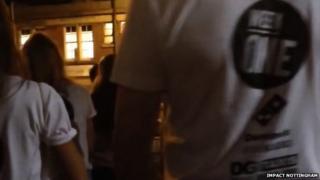 Students who were filmed singing about violence and necrophilia have been removed from their positions as student reps by their university.
A chant filmed during freshers' week included a reference to digging up a female corpse and having sex with it.
University of Nottingham Students' Union said it hired the representatives to support new students.
It accepted discriminatory behaviour such as this had become "culturally ingrained" and a review was under way.
'Normalised behaviour'
Both the union and the university have completed separate investigations into the footage.
The chants, which took place in September, were a direct violation of the union's code of conduct, it said, and it has disciplined "a small number" of student reps who had been removed from their positions.
A statement released by the university said offensive chanting is specifically mentioned in three separate training sessions for reps as something they should not engage in.
"The investigation has further identified there is an ingrained cultural issue within the Week One programme, which is now under review to produce firm recommendations for its improvement," it added.
Student magazine Impact reported last month that the reps had each been fined £150, but the university did not confirm this.
Union president Harry Copson said: "We recognise that there are parts of our student population that may engage in behaviour considered to be discriminatory and in parts this has become normalised.
"We also recognise that this issue is culturally ingrained and one that comes to light not through malice but through a lack of awareness."
The group was filmed outside the Capital FM Arena by a first year student, who did not want to be named.
She said she was "fed up" after hearing the misogynistic chants all week and so decided to film the behaviour.
She handed it to Impact, which published it on YouTube last month.