Nottinghamshire Police chief denies cover up of girl gun injury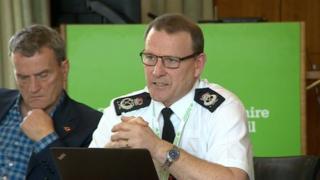 Nottinghamshire's chief constable has denied there was a cover up after a young girl was injured when an officer accidentally fired his gun.
The seven-year-old was hit in the face by an empty cartridge while on a tour of the force headquarters but it was not made public for a week.
Chris Eyre said Nottinghamshire Police had been open and transparent but the family "did not want any publicity".
The force only admitted it happened after enquiries by the Nottingham Post.
Mr Eyre defended his actions at a meeting of the police and crime panel - which had previously criticised the delay in informing the public.
Speaking afterwards he said they had been "open and transparent" by immediately referring the incident to the Independent Police Complaints Commission and the police and crime commissioner.
He added that the family did not want a fuss so a statement for the media was prepared but was only to be released if requested.
"We were open about what had taken place. There was no obfuscation, there was no cover up," he said.
"While I respect the views of the media and the interest of the public, I also had at the heart of my decision making the interests of those that were there on the day."
Mr Eyre also revealed the group of children was not due to see armed units on its tour of Sherwood Lodge, near Hucknall.
He said the group unexpectedly met an armed officer and as he was checked his gun was safe he accidentally fired into the ground.
Since the incident, procedures have been changed, including not allowing tours to meet armed officers without planning ahead, and all officers have had their training reviewed, Mr Eyre said.
Police and Crime Commissioner Paddy Tipping said he believed there had been disagreements in the force over its handling of the case and that the chief constable accepted he had made a mistake - although Mr Eyre said he "made a decision for what he felt was the right reasons".
Mr Tipping said: "I think there is a public interest here. I think people are extremely concerned about it. My own view is it would have been more appropriate to make a statement earlier."