Nottinghamshire flood defences get funding boost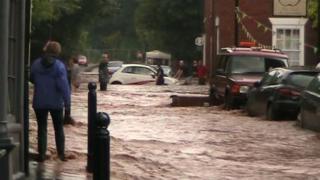 Flood-prone communities in Nottinghamshire will benefit from government funding to protect dozens of homes.
Southwell, Gunthorpe and Lowdham, on the River Trent near Newark, were all named in the national £2.3bn scheme after they were flooded last year.
Almost £1m will be spent on flood defences for the communities.
Southwell Flood Forum welcomed the announcement but said the town still needed a further £80,000 in funding.
Under the scheme, Southwell will receive about £750,000 for its defences while Gunthorpe and Lowdham will get £50,000 each.
Robert Jordan, chairman of the forum, said: "We are going to keep fundraising, keep campaigning and doing as much as possible to get the money."
Susan Dawson, whose home in Lowdham has been flood three times in the last decade, welcomed the news but feared she could be hit again.
"The first time I was out of my house for six months, the last time it was eight months," she said.
"Of course you have to leave the village you are used to - it's very, very hard."
The latest announcement follows news last week that Southwell residents are to be included in a grant scheme for damaged homes.