Beeston anger as gas works follow tram works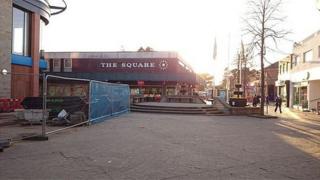 Residents in a Nottinghamshire town where delayed tram works are about to finish have said they are angry areas are to be dug up again for gas mains.
Originally due to end in 2013, building work on the £570m line in Beeston is now expected to finish in early 2015.
But it has been confirmed an old main gas pipe will then be replaced.
Steve Barber, from Broxtowe Borough Council, said it was a "bombshell". National Grid insisted it was trying to minimise disruption.
The work will focus on an area off High Road and across The Square pedestrian area.
Mr Barber said: "This bombshell came on Tuesday about the gas works and I am furious.
"They have known about this gas main, it's been there for 120 years, so why, oh why, oh why do they wait until we have just got a shiny new square and then decide to dig it up?"
Stephen Kitsch, manager at local jewellers Andrew McCulloch, said: "It's just the way the whole thing has gone over the past two years, I'm not surprised.
"It's been a bit of a disaster really, it has hit trade quite considerably and while we have attracted some compensation, we just want to get back to where we were."
Sarah Wilcox, from National Grid, said they had been liaising with the city and county councils and tram contractors to co-ordinate the work.
"We appreciate the people of Beeston have been patient with a lot of disruption but this is important work and sometimes it is just not possible to have both going on at the same time.
"It is unfortunate that some area will have to be dug up again but we can promise it will be reinstated to how it was before we started," she said.
The company said it was hoping to complete the work in the "first quarter of next year".