Vernon Coaker MP deletes erotic Twitter 'favourite'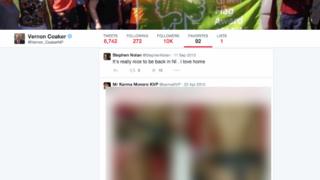 An MP once named one of the most boring on Twitter has deleted a "favourited" tweet featuring images of topless female models.
The post, which linked to an erotic photography account, was one of Gedling Labour MP Vernon Coaker's "favourites".
An article once described his tweets as "bland to the point of despair".
A spokesman said the MP "hadn't a clue" how the tweet has been favourited, but said it was not an attempt to make him appear more interesting.
'Embarrassing and unfortunate'
The "favourite" function allows Twitter users to show their appreciation for tweets and to bookmark them.
The tweet was one of the Nottinghamshire MP's favourites for about 18 months and has only recently been deleted.
Most of Mr Coaker's "favourites" related to the Labour Party and his own constituency work.
However, the deleted post was linked to a photographer who described his work as: "erotic artistic photography, topless, nude, and those of an explicit nature."
The hashtags on the tweet included the words #sexylegs and #sexytopless.
Mr Coaker's spokesman said: "Vernon hadn't a clue how it happened. It's a bit embarrassing and unfortunate.
"I don't believe we were hacked - it was just one of those things.
"Vernon was voted the ninth most boring MP on Twitter but it wasn't an attempt to correct that. We'll be more careful in future."
Mr Coaker was voted as one of the worst MPs on Twitter by the Politics.co.uk website in July 2013.
The article said of Mr Coaker's tweets: "There is no politics to be found here at all, just a relentless series of posts about where he is."
The erotic post came to the MP's attention when it was included in an article by the Vice website, which looked at tweets by a number of politicians including Conservative MP for Lincoln, Karl McCartney.
Mr McCartney claimed his account was hacked after a pornographic image was "favourited".
On Thursday, John Mann, Labour MP for Bassetlaw, announced that he had written to police asking if they could establish who "favourited" that tweet.
Mr Mann said it was "highly concerning" that someone had hacked Mr McCartney's account.
Lincolnshire Police said no formal investigation was under way.