Nottingham pole dancers' medal hopes for Beijing world championship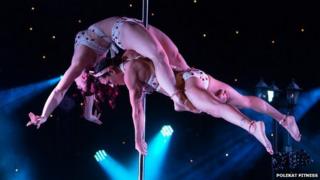 Pole dancing might not be the first thing to spring to mind when you think about Beijing, China's sprawling capital city.
Yet the city that hosted the Olympic Games in 2008, is staging the World Pole Dance Championships in April.
Leading Britain's 2015 challenge for medals is a doubles partnership from Nottingham - Kat Bailey and Danielle Haynes.
The art, prowess and physical strength required for this sport is hugely demanding.
"It's an opportunity for us to show the public and the world what pole fitness is all about," Ms Bailey, 29, said.
"Pole dancing still has this stereotype nightclub image associated with it. These world championships will help to challenge that perception."
Olympic hopes
The pair was guaranteed a place in the finals in Beijing after finishing runners-up in the UK heats last year.
Ms Bailey gave up her job as a psychology lecturer to become an instructor in pole fitness. She has been coaching Ms Haynes, who took up the sport by chance.
She started the business on the side while she was working at Nottingham Trent University. It began as a hobby but as the popularity of her class grew, she set up two classes, then three and then ten.
"I wanted a hobby that would help to raise my self-esteem," mother-of-two Ms Haynes, 29, said.
"There's lots of effort and training involved but pole fitness offers you a full body workout without you realising it.
"And the chance to compete in China is such a once-in-a-lifetime opportunity."
The world championships are now in their eleventh year but this will be the pair's first entry on the world stage.
The GB team is taking 10 competitors to represent the UK - two doubles teams and three men and three women in singles categories.
They will be competing against teams from 26 countries. Ms Bailey reckons the Russians will be tough to beat but she has a plan.
"We're working on an acrobatic routine that'll have a touch of comedy. It'll be quite light-hearted, which hopefully will appeal to the judges," she said.
They are both busy raising the £3,000 needed to get to Beijing.
Performing in the world championships could open the prospect of the Olympics, Ms Bailey said.
"Pole fitness isn't an Olympic sport yet but there's growing support from the Russians and Chinese," said Kat.
"It is highly likely to be an Olympic sport one day but it won't be the next Olympics, as it will have to be tried first.
"There is hope for pole as a trial sport in 2020 but at the moment there is a debate as to whether it should be counted as a gymnastic discipline or as a sport on its own."
The International Pole Sports Federation has been pushing for the sport to be included in the Olympics for many years.
If 2015 and the Beijing championships secure future Olympic status for pole dancing, you can be certain Bailey and Haynes will be pitching for Team GB selection.