Paris attacks: Muslims fast over 'senseless' deaths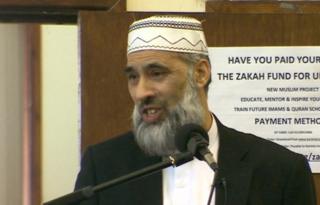 A senior British Muslim leader has led a fast in solidarity with people in France following what he described as "barbaric and senseless murder".
Dr Musharraf Hussain OBE said the terrorists who struck last week must not be allowed to succeed in "their motive to create division and conflict".
His call to fast was backed by more than 30 faith and community leaders in Nottinghamshire, where he lives.
They included Christians and Jews.
Writing on his website, Dr Hussain explained why the Prophet Muhammad would not have condoned the killings in Paris.
"He was the most kind, gentle and forgiving that one cannot for a moment think that he would allow the killing of his opponents," he wrote.
Ahmed Merabet, a Muslim police officer, was shot dead as he lay on the ground at the scene of the Charlie Hebdo attack.
His brother, Malik Merabet, has pleaded for unity and said the people responsible for his brother's death were "pretend Muslims".
"My brother was Muslim and he was killed by people who pretend to be Muslims. They are terrorists, that's it," he said at a news conference.
The fast is due to end at 16:00 GMT, when there will be prayers and food at Bobbersmill Community Centre in Nottingham.
Dr Hussain, who made efforts for the release of British hostage Ken Bigley in Iraq in 2004, is chief Imam of Karimia Institute, which is based at the community centre.
On Saturday, 2,000 roses were handed out by Muslims in Nottingham city centre as a symbol of love, peace and harmony.
The KQZ Institute has organised the event for the last two years, but said it had extra significance this year.
People commenting on East Midlands Today's Facebook page said it was "touching" and a "lovely gesture".
One Muslim woman wrote: "I hope that the society that I live in has the sense to separate me from the lunatics."