Whatton historical sex abuse claims made by former detainee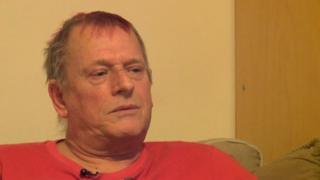 A man has claimed he was sexually abused by a senior prison officer at a young offenders institute in the 1970s.
Nigel Berrington spent six months in Whatton Detention Centre, Nottinghamshire - now an adult prison.
He said deputy governor Keith Innes regularly sexually and physically abused him during his detention.
His claim was investigated by Nottinghamshire Police, who found Mr Innes had since died.
Law firm Jordans Solicitors said it has been contacted by a further seven people who were held at Whatton between the 1960s and 1980s and claim to have suffered abuse.
Mr Berrington was caught breaking into a house aged 17 and was sent to Whatton, where he said he suffered weekly abuse at the hands of deputy governor Mr Innes.
"He was sadistic. He tortured me. I was terrified of him. He gave me a cigarette which he lit and gave to me to smoke.
"And then he turned round and said 'you're smoking, that's illegal in here. You're on punishment'.
"That led to me being thrown to the floor... and forced to do a sexual act on him.
"This happened on a regular basis."
When he was freed Mr Berrington, now 61, wanted to tell people but feared no-one would believe him.
Police matter
It was only following the Jimmy Savile revelations and Operation Yewtree that he had the courage to report the abuse to police.
Officers proved "very helpful", he said, but he realises it is too late for a prosecution, hoping instead his story will encourage other victims to come forward.
A police spokeswoman for the police said: "During initial enquiries, it was found the alleged suspect was deceased and as a result no account from them could be obtained.
"The offence could therefore not be further progressed."
The Ministry of Justice (MoJ), which runs HMP Whatton, said it was a matter for police.