Stonewall name Nottinghamshire NHS Trust as top gay-friendly employer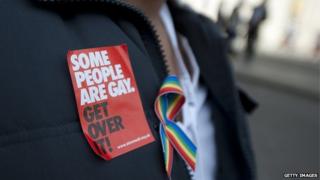 Nottinghamshire Healthcare NHS Trust has been named as the UK's most gay-friendly employer.
Charity Stonewall put the trust at the top of its Top 100 Employers 2015 which showcases Britain's best employers for lesbian, gay and bisexual staff.
It said the trust had shown support for staff and created a comfortable environment for them to work in.
The trust said improving conditions for its workers in turn helped to provide a better service for patients.
Simon Feeke from Stonewall said 1 in 4 people still went to work everyday while concealing their identity.
'Embrace diversity'
"There's still challenges for gay people at work who, due to homophobia in certain organisations or industries, still hide their identity," said Mr Feeke.
"If you want to get more out of people you have to create an environment where they feel comfortable at work and feel like themselves.
"It is simple things organisations can do to make people feel included, like ensuring policies for maternity/paternity leave also apply to same sex couples."
Nottinghamshire Healthcare was scored on workplace culture and activity, including leadership, policy, practice, procurement and service user engagement, and a confidential staff survey.
Head of equality and diversity at the trust, Catherine Concher, said they had been working to make sure they "embraced everybody's diversity".
Cognitive therapist and from the trust's LGBT forum, Rachel Philips, said: "I can talk about my social life and home life without fearing people will react in a negative way.
"It is about being myself at work which means a lot to me."
The list, which also includes Nottinghamshire County Council and Nottinghamshire Fire and Rescue Service, placed Leicestershire County Council at 17th with Leicestershire Police ranked at 65th.