Denewood Learning Centre staff 'kicked, punched and spat at'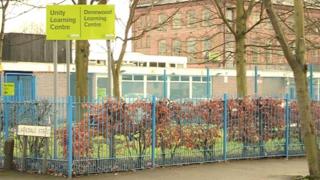 A school that deals with excluded pupils has been placed into special measures after an inspection found pupils attacking and spitting at staff.
Denewood Learning Centre in Radford, Nottingham, closed on 15 December following a damning Ofsted report but has begun to reopen for some pupils.
During the unexpected visit, inspectors said staff were frequently sworn at, spat on and kicked by pupils.
The city council said it was taking "immediate action" on the issues.
The centre catered for pupils aged five to 14, with severe social, emotional and behavioural difficulties.
'Little respect'
All 64 pupils had been taught elsewhere but the authority said there had since been a phased reopening of the school following its closure a week before the Christmas break.
Ofsted inspectors said the school needed to be placed into special measures because pupils' behaviour was so poor.
They also highlighted problems with low attendance, staff having to physically restrain pupils and teaching not capturing pupils' interests.
Inspector Linda McGill said: "The pupils often show little respect for adults, one another or their environment and show little inclination to learn.
"Incidents often escalate into violent behaviour... staff are frequently sworn at, spat upon and are kicked and punched by pupils."
New governors
Councillor Sam Webster, from Nottingham City Council, said the authority was taking "immediate action to address the issues identified".
He said: "We know this situation is clearly unacceptable and urgent improvement is needed. Our immediate priority is to support Denewood pupils and their parents.
"We also want to publicly recognise the continued professionalism of the staff working hard at Denewood."
The authority has applied for powers to intervene and establish a new governing body.