Nottinghamshire residents oppose care home closure plans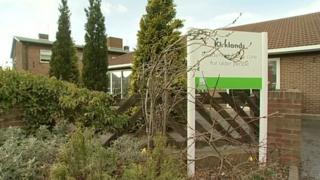 Nearly 9,000 people have signed petitions calling for a county council to keep its care homes open.
Nottinghamshire County Council announced plans to shut its six remaining homes in the next two years.
The authority has proposed a new extra care housing scheme instead which it said would be cheaper than upgrading and better for residents.
Campaigner David Crofts said residents were "devastated" to be leaving their homes.
Mr Crofts, from Weston, Nottinghamshire, started a petition after Bishop's Court in Boughton, where his mother Doris lives was earmarked for closure.
He has collected 7,500 signatures with a further 1,500 signatures on a Unison petition.
'Moving forward'
"My mother is devastated," said Mr Crofts.
"It is her home; her place of safety.
"The home has a four-star rating and there isn't any in the area that can provide the care she needs."
He said many residents would struggle to get the same 24-hour care elsewhere.
The authority has proposed a new extra care scheme after it estimated that modernisation would cost £4m.
Under the plans, residents will be moved into new developments where they will live in their own homes with access to personal care.
If approved, the home closures will take place over the next two years with more than 200 jobs losses.
Chairwoman of the council's adult social care and health committee, Muriel Weisz, said: "We are trying to move forward and providing care in the community for older people is an alternative to residential care.
"That's what we hear that people prefer in the longer term.
"We appreciate this is not appropriate for everybody but we are looking at getting the best possible solution for the people who are living there at the moment."
Consultation on the council's plans ends on Friday.