Lindhurst homes judicial review challenge is dismissed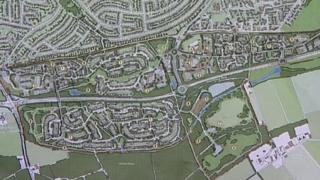 The latest legal challenge to a major £250m housing scheme in Nottingham has been thrown out.
The Lindhurst development includes 1,700 homes, a GP surgery, park land, retail space and a new primary school on 417 acres of land near Mansfield.
Opponents criticised its environmental impact and had secured a judicial review into how planning permission was granted by Mansfield District Council.
The council said the project was "much needed" and work should start soon.
Outline planning permission was granted in 2013, but campaigners highlighted the loss of agricultural land and the impact on nearby Harlow Wood.
They claimed the district council had not followed proper procedure in assessing the environmental risks.
A judicial review was granted - at the third attempt - in October.
But it has now been dismissed at the Royal Courts of Justice in London.
Shlomo Dowen, from the Stop the Lindhurst Development campaign, said: "There is the potential for a supreme court challenge but that has not yet been decided, so there is uncertainty there.
"But absolutely the local residents' campaign does not end here, no opinions have been changed by the ruling today."
Mayor of Mansfield Tony Egginton said: "We are extremely pleased with the outcome. This development and the much-needed high quality family homes and employment opportunities it will bring are vital for the regeneration and growth of the entire district.
"It has been a long, hard, battle but the council has always maintained its position and robustly defended its original decision to grant outline planning permission. We are delighted that work is due to start in the coming months."