Nottingham Credit Union Mansfield branch 'needs to triple membership'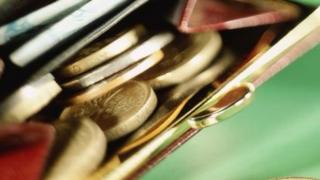 A credit union needs to almost triple its membership in part of Nottinghamshire in order to be viable, the county council said.
The authority is awarding the Nottingham Credit Union in Mansfield £20,000 to help it increase its membership from 540 to 1,600.
The council said its grant was to help the union become "self-sufficient".
The Nottingham Credit Union has about 6,000 members, 70% of whom live in the city.
Members who use the Mansfield branch, on Regent Street, number about 540.
General manager Ella Ferris said: "We're kind of stuck in a trap. We need to cover our own costs and we'd like to be able to do more in the community helping people understand their finances better.
"We're really restricted to just running our core services at the minute. What money we make covers that."
Deputy Leader of Nottinghamshire County Council Joyce Bosnjak said credit unions were important to tackle "extortionate interest rates" charged by pay day lenders.
"By helping to raise the profile of the credit union in Mansfield and Ashfield we want to make the service self-sufficient and provide an affordable alternative for local people that also promotes saving and better money management."
---
What is a credit union?
They are financial co-operatives, owned by the people that use them.
Generally, membership of an individual union is limited to people who live and work in the local area it serves.
Members are encouraged, first and foremost, to save rather than borrow.
They can pay the money in at local offices, collection points, some newsagents, directly from wages, or through a standing order or direct debit.
These savings are protected, up to £85,000, by the Financial Services Compensation Scheme, were the credit union to go bust.
Some will only lend up to £1,000, but some of the bigger ones may offer larger loans or even mortgages.
---