'Robin Hood' Major Oak Euro vote appeal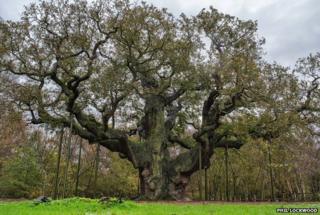 An appeal has been made to help get a Nottinghamshire tree named the best in Europe.
The Major Oak in Sherwood Forest is thought to be up to 1,000 years old and is linked to the legend of Robin Hood.
In November, it won England's first Tree of the Year competition and is now competing for votes against 13 others across the continent.
Officials said an online vote during February was a "one off opportunity" for people to show their support.
Competition comes from trees as far apart as Hungary and Spain.
---
From 'The Major's Oak' to Major Oak
Because of its national importance, conservation measures to the tree have been carried out continually since 1908.
Steel poles prop the sprawling limbs and tree surgeons check the oak periodically, carrying out remedial work as needed.
The earliest recorded name for the tree, dating back to the mid 18th Century, was the Cockpen Tree.
The hollow interior is said to have been used to pen cockerels ready to be used for cock fighting. Later it was known as the Queen Oak.
In 1790, Major Hayman Rooke, a noted antiquarian from Mansfield Woodhouse, included the tree in his popular book about the ancient oaks of Sherwood. It therefore became known as The Major's Oak, and later simply The Major Oak.
Source: Nottinghamshire County Council
---
John Knight, committee chairman for culture at Nottinghamshire County Council, said: "The Major Oak touches people's hearts and their imagination.
"It could be a one-off opportunity to compete for this European title, so we appeal to everyone to get behind Sherwood Forest and the Major Oak. It is one of the most iconic and best known trees in the world and it would be a fitting tribute if it could win this European award."
Izi Banton, the council's site manager for Sherwood Forest country park, added: "I love its durability and the way people react to it.
"This tree, perhaps like no other, captures the imagination instantly and it is this I think, and the part it plays in raising the profile of ancient and special trees, which is why the Major Oak deserves to be European tree of the Year."
To place your vote in the competition visit www.treeoftheyear.org between 1 February and 28 February.