University of Nottingham £40m sports centre plans to be resubmitted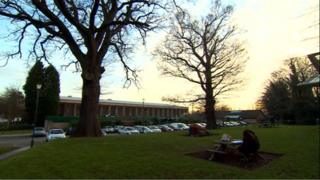 The University of Nottingham is resubmitting plans for a £40m sports centre following a row with the city council over three oak trees.
Its first application was rejected by the authority because the trees, thought to be about 150 years old, would have to be felled.
The council was accused of hypocrisy after mature trees were cut down in the city to make way for new tramlines.
The university hoped the new plans, retaining the trees, will be approved.
'Still unhappy'
Paul Greatrix, the university's registrar, said: "We're still unhappy with the original decision but we have to live that.
"We've worked with the [planning] officers to produce a revised plan which retains those three trees.
"We don't think it's as good as the last one but nevertheless we accept the way it's got to be."
Sally Longford, a member of the planning committee, had said about the original decision that she could not let the oaks "go without a whimper".