Nottinghamshire police officers investigated over gun incident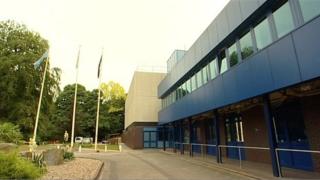 Three Nottinghamshire police officers have been served with gross misconduct notices after a schoolgirl was injured when a police gun went off.
The Independent Police Complaints Commission (IPCC) said an investigation into the discharge of the gun at a public event in October was continuing.
A seven-year-old girl was hit in the lip by an empty cartridge after a rifle was accidentally fired into the ground.
The IPCC said CCTV footage was being examined.
It is also investigating whether an attempt was made by the force to cover up what happened and whether the use of live firearms at a public demonstration was authorised.
Two firearms officers and a police dog handler have been served with gross misconduct notices informing them that their conduct is under investigation. They will be interviewed by IPCC staff.
The girl, from Worksop, was injured while a group of children and parents were being shown specialist police services at Sherwood Lodge, near Hucknall, after they won a local prize.
The investigation is being overseen by IPCC commissioner Derrick Campbell.
He said: "I am extremely concerned about the discharge of a police gun at an event attended by members of the public.
"The public must have confidence that police officers who carry guns do so with highest standards of care and professionalism - and that the policies and procedures that govern their work are rigorously adhered to at all times."
A review into previous firearms incidents at Nottinghamshire Police within the past six months where negligence may have been reported is being carried out.