Shanay Walker murder accused pleads not guilty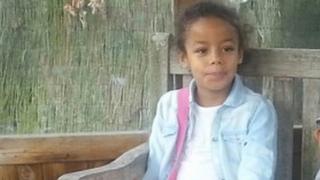 A woman accused of murdering her young niece and cruelty offences has denied all charges against her.
Kay-Ann Morris, 24, from Nottingham, is charged with killing Shanay Walker, who was found dead at a house in the city's Bestwood Park area in July.
Ms Morris, of Beckhampton Road, is also accused of cruelty to Shanay, in 2012, along with the same charge against two other children, in 2011.
A second woman has also been charged with cruelty towards the girl.
Juanila Smikle, 53, of Easegill Court in Top Valley, Nottingham, has been charged with cruelty to Shanay and to four other children, dating back to 2011.
Both women appeared at Nottingham Crown Court earlier, and were remanded back into custody.
A trial date has been set for 15 April.