Kirkby teen Corah-Beth Slaney house revamp now a priority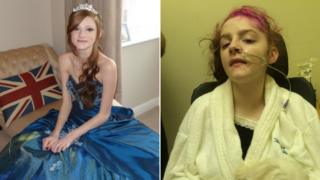 A council which said a terminally ill teenager had to wait two years before her home could be adapted to her needs has now said she is a priority.
Corah-Beth Slaney, 16, from Kirkby in Ashfield, Nottinghamshire, has mitochondrial disease, which means she cannot care for herself.
Ashfield District Council initially told the family that cutbacks meant there was a waiting list.
But it has now relented and promised to "progress the works urgently".
Corah-Beth was diagnosed with mitochondrial disease last year and suffered a dramatic decline in her health.
Mitochondrial disease
Mitochondria are present in almost all cells in the body and provide the energy needed for the cell to operate
When these fail - mitochondrial disease - it can cause a range of problems including poor growth, heart disease, diabetes, dementia and more
It is actually a group of diseases with a huge variety of symptoms
MPs recently voted to allow babies with the DNA of three people to be born - helping reduce the possibility of mitochondrial disease
Parents Carl and Lisa Slaney applied to the council for help building a bedroom and a wet room on the ground floor of their home but, despite assessing the family as eligible for the help, they were told there was a two-year waiting list.
After their story appeared in the media, Nottinghamshire County Council wrote to the district council and it has since relented.
Mrs Slaney said: "The difference it will make to her life when she can have a shower every day... rather than have a two-hour round trip to get a wash will be fantastic for her."
Mr Slaney said: "To have her on ground level where we can attend to her will be easier.
"It is still horrible, [we're] still distraught because before Christmas she was doing everything herself, now she can't do anything for herself."
The council said the letter from County Hall "effectively instructed" the local authority to proceed urgently.
"The council will ensure that this priority work progresses as swiftly as possible," it said.
The work is expected to take about six months.