Zoe Black inquest: Grandmother criticises city's social work response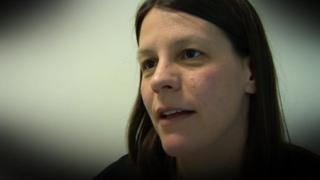 The grandmother of a baby who was killed by her mentally-ill mother has said social workers should be available on weekend to respond to urgent cases.
Seven-month-old Zoe Black was killed by her mother Amy Black in Nottingham in September 2013.
Her grandmother Lynn Shackleford, who lives in Minnesota, told inquest that Zoe "should be alive today".
The inquest heard police officers asked for an urgent social work visit before Zoe's death but no-one was available.
Neighbours 'worried'
Ms Black, 40, was detained indefinitely in a secure hospital last May after admitting infanticide while her mind was unbalanced after giving birth.
In a statement read out at the inquest, Mrs Shackleford said: "It's now clear that neighbours, taxi drivers and police officers saw that her behaviour was not normal on that fateful weekend but no-one followed through and made sure she was alright.
"Nottingham City Council social services not being available at weekends is a travesty."
The inquest was told the family had travelled to London on the day before Zoe died, but Ms Black had gone to Ealing police station and said she needed to get back to Nottingham when Zoe's father Jack became ill.
Police took her to a service station on the M1 where officers from Nottinghamshire collected her.
Officers who drove her back to Nottingham said they were concerned about Ms Black's welfare and asked social workers to visit her.
Zoe was found dead in undergrowth in Bestwood by neighbours on Sunday 1 September 2013.
The inquest continues.