Newark Air Museum: £500,000 expansion plans approved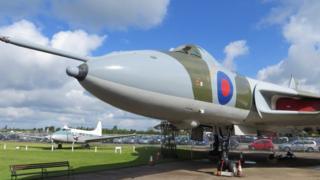 One of the largest volunteer-run aircraft museums in the UK is hoping a major revamp will bring more visitors to its Nottinghamshire site.
Plans for a £500,000 expansion of the Newark Air Museum have been approved by Newark and Sherwood District Council.
The museum attracts 27,000 visitors annually to its display of 75 aircraft, which includes a Vulcan bomber.
It has applied for a £200,000 grant from the Arts Council England.
"The project will double the size of the museum and will include new waste treatment facilities and an upgrade of our café, which is in a portable building," museum spokesman Howard Heeley said.
The museum has already raised about £20,000 in a fund-raising campaign, he added.
The museum, which has two display halls, contains several MiG fighters and a Saab Viggen maritime patrol aircraft.