Swans found mutilated at Kings Mill Reservoir in Mansfield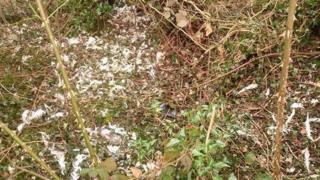 Four swans have been found mutilated at a nature reserve, prompting fears they were killed by people for food.
Ray Hallam, a water bailiff at Kings Mill Reservoir, said their wings had been cut away and he found knife marks on the bones.
He said there was no way an animal had caused the birds' deaths.
However, Tim Sexton from Nottinghamshire Wildlife Trust, said it was more likely to have been the work of a fox, mink or even domestic dog.
'Wild animal'
Mr Hallam, who was appointed to look after the water, said he found one of the birds on Sunday and three since, all without heads and feet and stripped of their feathers and their flesh.
He believes they have been killed by people for food.
He said: "We've checked the body and we've found knife marks on the actual bones and where the wings have been cut off clean, an animal wouldn't do [that]."
Mr Sexton, who is assistant manager of Attenborough Nature Reserve, said: "It could well be an attack by a wild animal - both foxes and North American mink are predators of swans in the wild.
"It seems strange to me that somebody would butcher swans out in the field... I can't imagine in any culture why anybody would want to eat wild swan's feet.
"It could be that domestic dogs are killing the birds and then they're just being cleaned off by wild animals. In the wild nothing goes to waste."
The RSPCA said in a statement: "We would like to remind people that swans are protected and anyone found guilty of disturbing, injuring or killing them could face a fine of up to £5,000 and a six-month prison sentence."