Nottinghamshire County Council to raise council tax by 2%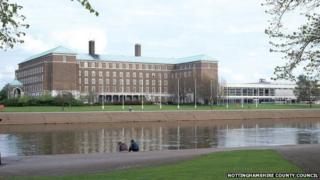 Nottinghamshire County Council has voted to increase council tax in a bid to save £77m over the next three years.
The Labour-led authority said it had no choice but to raise it by 1.99% due to cuts in funding from the government.
The Conservative group said it had put forward an alternative budget which would have meant no tax rise.
The council revised its plan to close six care homes with three in Arnold, Ollerton and Worksop, now staying open until 2018.
Reg Adair, the Conservative's finance spokesman, said prudent spending would have been a better alternative.
He said: "We don't believe we should be increasing council tax... there's every alternative.
"We've costed through our budget with a council tax freeze not just this year but for the next two years as well."
However, Alan Rhodes, leader of the council, said: "We inherited a £150m deficit from the Conservatives and have suffered with ongoing cuts to our funding from central government.
"If we didn't have to raise council tax, we wouldn't... I want to protect services but I want to make them cost effective too.
"A freeze in council tax [would be] a continued reduction of services and jobs in Nottinghamshire."
Any local authority that wants to increase council tax by 2% or more would have to hold a referendum on the proposals.
Plans to close three care homes, James Hince Court in Worksop, Leivers Court in Arnold, and Bishops Court in Ollerton, have been suspended for three years.
A proposal to introduce smaller household waste bins to increase recycling rates has been withdrawn.