Nottingham City Council forced to spend £4.5m on IT upgrade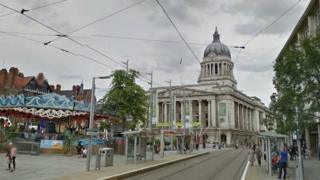 Nottingham City Council will have to spend £4.5m improving its IT system because of "historic underinvestment", a report has concluded.
It said the authority must replace 80% of its workstations.
The IT infrastructure was "buckling under its workload" and the public could suffer as a result, the Conservative opposition said.
The Labour group said the money had been allocated but not released because of "big budget pressures".
Deputy leader Graham Chapman said the report, which the Labour group commissioned, was "embarrassing" because things "have not gone as they should do".
"If you've got cuts coming, if you've got serious problems in other areas of the city council in terms of additional child protection, additional elderly people - big pressures on your budget - there's a reluctance to release money into IT," he said.
He said the £4.5m is now being released. The authority's budget for 2014/15 is £278m.
'Major incidents'
The report by Actica Consulting said: "Historic underinvestment has resulted in high level day-to-day maintenance and support issues and a significant level of dissatisfaction amongst service users with a blame culture aimed at IT services."
"It has been that this underinvestment is a case of not spending available funds, as opposed to funds not being available," it added.
It said there were up to 20 "major incidents" with the IT system per month.
The council concluded about 4,500 workstations need to be replaced.
Conservative group leader Georgina Culley said it was a "damning report".
"Now we have a situation where the council's infrastructure is buckling under its workload," she said.
"If you ring up the council and find your application for whatever has not been processed it could well be down to problems with the IT system."