Zoe Black inquest: 'Refusal' to visit killer mother 'unjustifiable'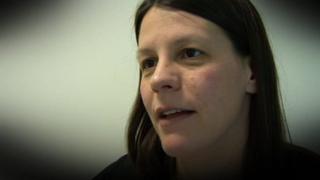 A "refusal" of a request for a weekend social care visit for a woman who went on to kill her baby daughter could not be justified, a coroner has said.
Seven-month-old Zoe Black was killed by her mother Amy Black in Nottingham in September 2013.
During an inquest into her death, social worker Rohan Griffiths denied police claims that they asked for an urgent visit the day before Zoe died.
Assistant coroner Dr Elizabeth Didcock gave a verdict of unlawful killing.
Baby Zoe was found dead in undergrowth in Bestwood by neighbours on Sunday 1 September, 2013.
The previous day she was taken to London by her mother who told a police officer in Ealing that she wanted to travel to Holland but had no passport, Nottingham Coroners' Court heard.
Urgent visit
Police agreed to take her home and, later on, Sgt Ruby Burrow of Nottinghamshire Police spoke to Mr Griffiths who was on duty in the social services' emergency duty team.
She told the court that as there was "not a lot more the police could do" she asked him, twice, for a home visit to be arranged.
But, she claimed, on both occasions Mr Griffiths refused, saying there was not a social worker on duty. Mr Griffiths denied any request for an urgent visit was made.
Dr Didcock rejected his evidence and said that "as a minimum" he should have discussed the case with a mental health practitioner.
While a visit would not have prevented Zoe's death, she said: "I cannot and I do not find that the outright refusal by social care to intervene or to take any action whatsoever on that evening can be justified".
She expressed concern there was "no clear guidance as to how social care and police should jointly respond out-of-hours to a situation such as this".
'Deeply disappointing'
Dr Didcock said there is an urgent need for a protocol to "address the roles, responsibilities and duties of professionals involved in this service".
That one had not yet been implemented was "not only surprising to the court, but deeply disappointing," she said.
A draft agreement has now been set up.
Independent chairman of the Nottingham City Safeguarding Children Board, Paul Burnett, said a serious case review was also under way "to identify action that could be taken to further improve services based on learning from the case.".
"At the time, she presented as a loving and attentive mother with no indication that she would intentionally harm her baby," he said.
He said the emergency duty team is available out of hours and "had this been the case here, appropriate action would have been taken".
'Mentally unwell'
CCTV from 1 September 2013 showed baby Zoe moving until about 09:00 BST but 40 minutes later she was and "very likely dead."
Mrs Black then climbed over her garden fence with a phone and knife, where she remained until neighbours found her.
Zoe was found wrapped in wet clothes and blanket, "pale and lifeless". She was pronounced dead at Queen's Medical Centre at about 11:10.
Police said Mrs Black was clearly "mentally unwell" and was detained under the Mental Health Act.
A post mortem examination was inconclusive but found evidence of a lack of oxygen to the brain, "consistent with drowning or with accidental or deliberate smothering".
Mrs Black is being held at a secure hospital after admitting infanticide while her mind was unbalanced.