Nottingham's St Patrick's Day parade in doubt for next year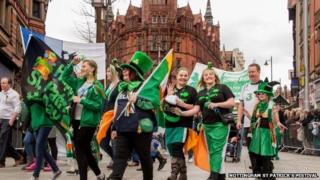 Organisers of the annual St Patrick's Day parade in Nottingham have said this year's event could be the last.
The first parade was organised in 2000 by volunteers and and costs about £25,000 each year.
However, organisers say as funding from the Irish government has been cut, next year's event is already in doubt.
Volunteer Mary McGowan, said the event has always been well attended and would be a great loss for the city if it was forced to stop.
"We just haven't got enough funds for next year and we are just asking all the people out there to help," said Ms McGowan.
"It is a great money-spinner for the pubs and restaurants and it is overall a great day, whether you are Irish or not.
"It has great atmosphere and we don't want to lose it."
Ms McGowan said a lot of their sponsorship from local businesses had been cut during the economic downturn, while the Irish government had also reduced its grant by £8,000.
Organisers are expecting about 8,000 people to attend Tuesday's celebrations.
The parade leaves the city's Forest Recreation Ground at 12:00 GMT and arrives in Old Market Square half an hour later.
It will be followed by live entertainment throughout the afternoon.