China expert at Nottingham University 'spent too much time abroad'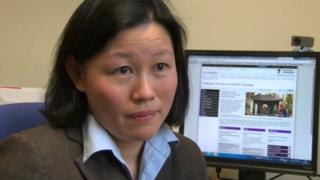 A leading Japanese academic is leaving a Nottingham university after being told by the Home Office that she spent too much time abroad.
Dr Miwa Hirono, an expert on China's peacekeeping and humanitarian policies, was refused leave-to-remain in 2014.
Ms Hirono said she was in "utter shock", adding she had spent the time at conferences in Asia and Africa.
The Home Office said she failed to provide "compelling evidence" to back up her application.
'Global star'
A University of Nottingham spokesman said all of her foreign travel was for work and had been approved by the university except for "two very short vacations".
Ms Hirono said: "They have just lost one China specialist and they are basically shooting [themselves] in their foot.
"My work necessitates me going overseas to China, East Asia and other developing countries like Cambodia, Liberia and Indonesia.
"I was penalised for working very hard and bringing knowledge back to the UK - and because my passport has been taken away, I could not do any of the work.
"If an international expert thinks their lives will be severed all of a sudden - they won't want to come here."
Mathew Humphrey, the university's head of politics and international relations, said: "She is global star - the damage in terms of recruitment will be long-lasting.
"To eject her on that basis is crazy - she had a character reference from the vice-chancellor of the university. I can't blame her [for leaving]. She's had enough."
Ms Hirono, who is married and whose son was born in Nottingham, has accepted a position at Kyoto University in Japan.
The Home Office said the rules had become "more generous" with 180 days allowed each year instead of being spread over five years.
Ms Hirono spent 270 days outside the UK in 2009-10 and 202 days outside the UK in 2010-11.