Attenborough Nature Centre celebrates 10th birthday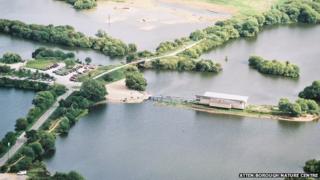 Attenborough Nature Centre in Nottinghamshire is celebrating its 10th anniversary over the weekend with a series of events.
Special art workshops and nature walks are being held at the centre, which was opened by broadcaster and supporter Sir David Attenborough in 2005.
The nature reserve itself was created on flooded gravel pits in 1966.
Back in 1988 Sir David visited Attenborough village hall to views plans for the education centre.
Despite his support the plans were initially rejected over fears it would bring too much traffic through the village.
Once the go-ahead was given, the visitors' centre building was largely constructed off-site to reduce the impact on wildlife.
The sand martin hide and nesting bank opened in 2014 and allows 150 pairs of sand martins to nest. The birds can be viewed from windows in the hide.
The nature reserve is home to many species of breeding bird including the kingfisher, common tern and Cetti's warbler which were bred for the first time at the site in 2007.
Special breeding platforms have been built to simulate the common tern's coastal nesting habitat at the reserve.
A surprise visit from a white-winged black tern attracted more than 1,000 bird watchers.
The bird, which is normally found in central Asia and Africa, appeared at the reserve for two days in 2013.
Over the past 10 years, the centre has attracted 2.2m visitors, including more than 30,000 schoolchildren.
The nature reserve has been designated a Site of Special Scientific Interest (SSSI) and is managed by Nottinghamshire Wildlife Trust.