Nottingham factory fire: Expected to continue 'into next week'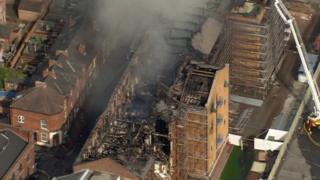 A fire at a former Nottingham cigarette factory could continue burning into next week, firefighters have said.
Crews went to the Student Lodge on Player Street, most of which is being renovated, on Monday afternoon.
The size of the building and high winds have hampered the operation and up to a third of it could be knocked down to help tackle the blaze, crews said.
The fire service confirmed they were planning to be at the site until at least Tuesday.
The former John Player factory was built in 1895.
Senior firefighters described the blaze as the most complex they had ever dealt with and their response as "controlled, methodical and systematic".
Dave Stevenson, from Nottinghamshire Fire and Rescue, said: "We have made tactical plans to deal with it over the Bank Holiday weekend.
"So we're are planning to be here Tuesday and we will reassess then".
Students and some nearby residents have been evacuated from the area. Shopkeepers at a nearby retail park said the impact on their trade had been "shocking".
The university is caring for students from the Player Street site and the city council has found alternative accommodation for displaced families.
The fire is thought to have started between the third and fourth floors of the building.
Investigations into the cause of the blaze are ongoing.