Nottingham's Broadmarsh shopping centre design unveiled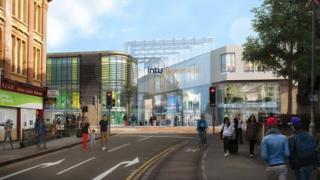 A planning application has finally been submitted for the redevelopment of a Nottingham shopping centre.
Intu, which owns the Broadmarsh Centre, has said it wants to turn it into a "leisure destination".
After years of plans and delays, Intu insists a multi-screen cinema, more places to eat and a roofed "street scene" feel will revitalise the area.
The city council will now consider the £150m plans, with a possible opening date of mid-2018.
Intu said they had taken into consideration more than 2,500 suggestions from the public.
Adam Tamsett, general manager at Intu Broadmarsh, said: "It's a scaled-down version of what was proposed before but it is something we can deliver now.
"There will be an extension upwards for the cinema and change the use from what is today a 9-5.30 shopping centre to somewhere you can enjoy from the morning right through to the evening and beyond."
The plans also include opening up the entrance from Collin Street to the railway station, conversion of the Drury Walk entrance, the refurbishment of the Broadmarsh car park and a new tram stop and college.