Nottingham factory fire: More demolition on John Player building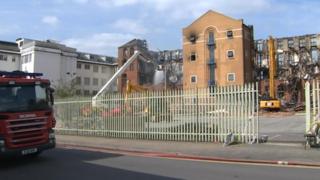 Further demolition work is being carried out on a former cigarette factory in Nottingham, which has been on fire for more than nine days.
A blaze broke out at the ex-John Player building in Radford on 30 March.
Group fire manager Dave Stevenson said about half of the building was expected to be pulled down to allow crews to get to pockets of fire.
He said he hoped residents, who had been moved from nearby homes, would be allowed to return on Monday.
'Complications'
Mr Stevenson said: "The plan today is to knock part of the building down and then to move that rubble to allow our firefighters to have access into the building to put water where it's needed."
He said the fire, at the privately owned Student Lodge, most of which was being renovated, was the longest running incident in his 26-year career in the fire service.
"There have been some complications around the building itself and this is as quickly and as safe as we can do it," he said.
A third of the building has already been pulled down in controlled demolitions at the site.
The city council has said the ultimate decision on whether the 19th Century building will be pulled down completely "will be for the landowner and insurers to decide upon".
Investigations into the cause of the fire will not begin until it is completely extinguished.