Attenborough Nature Reserve: Rare bug found during species challenge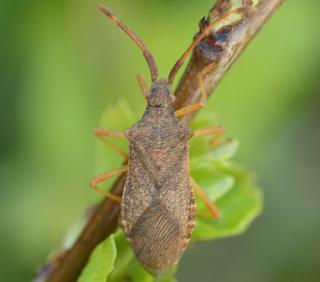 An extremely rare insect has been found during a challenge to identify 1,000 organisms at a park in Nottinghamshire.
The box bug, so called because it was believed to only feed on trees in Box Hill, Surrey, was spotted at Attenborough Nature Reserve.
Tim Sexton, from Nottinghamshire Wildlife Trust, said the find was "significant" and was the first time it had ever been recorded in the county.
The wildlife expert has listed about 500 species in his 12 month quest.
---
Top Five species finds
Badger - confirmed on the reserve after trail cameras were put up around a presumed badger sett in mid-January
Box bug (Goriocerus acuteangulatus) - a former Red Data Book species and a first record for Nottinghamshire
Sitticus pubescens - Mr Sexton said he had a soft spot for jumping spiders and this one was by far the "most adorable"
Ring-billed gull - a North American species of gull and a "life tick" for Mr Sexton, who had never seen one before in the UK
Moss scorpion (neobisium carcinoides) - not a real scorpion, but a species of pseudoscorpion. Just a few millimetres long and looks like a miniature scorpion
---
Mr Sexton, assistant manager of the Attenborough Nature Centre, said the box bug was at the highest level of rarity because it was previously restricted to a small area of southern England.
He said: "In recent years it has adapted to feed on hawthorn, among other trees, which has enabled it to spread further afield and it has slowly crept north towards Nottinghamshire."
The park, established in 1966 from gravel extraction pits, has attracted rare birds including the bittern.
Mr Sexton said although it had taken time and patience to find some of the smallest and shyest creatures, his challenge had shown how diverse the area was.
He is hoping to record more than 1,000 species by the end of 2015.