Nurse Paul Tuffin sentenced over indecent images of children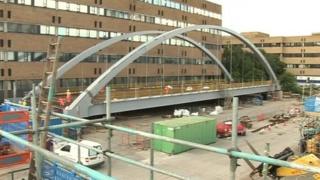 A Nottinghamshire nurse has been sentenced to a two-year community order after admitting downloading indecent images of children.
Paul Tuffin, 27, of Beeston, who was a paediatric nurse at the Queen's Medical Centre, had hundreds of images in his possession.
More than 420 images and videos were discovered on two of his mobile phones and a computer.
None of the children featured in the images were patients at the hospital.
Criminal checks
As he sentenced Tuffin at Nottingham Crown Court, Judge Andrew Hamilton said: "These are serious matters. These children are victims, they are the people who suffer so people like you can get some gratification from it. It's got to stop."
Mandie Sunderland, chief nurse at the Nottingham University Hospitals, said: "Nurse Tuffin was excluded from work on the day of his arrest.
"He was dismissed from the trust in July 2014 for behaviour incompatible with being a nurse, related to downloading indecent images of children.
"Before his appointment in November 2010, we completed Criminal Record Bureau checks, which did not return any concerns."
Tuffin pleaded guilty at an earlier hearing to possessing and making indecent images of children.
The court heard the defendant spent time with children outside work in various activities including a kayaking club.
He has been ordered to complete an internet sex offenders' treatment programme and to sign the sex offenders' register.