Bogdan Nawrocki search: Police fail to find body at Radford factory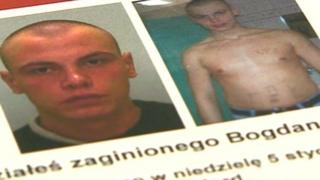 A police search for the remains of a murdered Polish man at a Nottingham building has been unsuccessful.
Forensics experts and detectives from Nottinghamshire Police spent two days searching the former Player factory, in Radford, for Bogdan Nawrocki's body.
Police looked in tunnels underneath a former cigarette factory as well as nearby drains in Beckingham Road.
The historic building was recently damaged by a fire that lasted almost 10 days.
Polish support
The blaze broke out several weeks ago in part of the Player's building which was being renovated into student accommodation.
Mr Nawrocki, 21, went missing from his Radford home in January 2014, prompting a major police appeal.
In February, Robert Marcinkiewicz-Szurkowski, 27, of Sneinton, was jailed for 27 years for killing Polish national Mr Nawrocki.
A jury heard the had been the victim of "a prolonged and violent attack" and his body taken away from the property.
Nottinghamshire Police spokesman Tony Heydon said he was disappointed by the failure to find the body.
"I'm clearly disappointed the searches haven't generated any further indication as to where Bogdan's body is," Mr Heydon said.
"The investigation continues and with the continued support of the Polish community and those who have provided us with information, we will not stop our search to find Bogdan."
Police have searched more than 40 sites, including previously at the former Player's cigarette factory, but Mr Nawrocki's body has never been found.