Nottingham peregrine falcons: Chicks hatch on university roof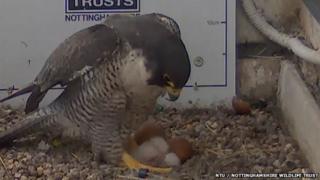 Three peregrine falcon chicks have hatched from what is believed to be the earliest clutch of its type at a monitored nest site in the country.
The nest is on the ledge of the Newton Building at Nottingham Trent University and is being filmed by a Nottinghamshire Wildlife Trust webcam.
A trust spokesman said it was likely they were ahead of any other known nest site this year.
One remaining egg should hatch shortly, he added.
Peregrine falcons have been nesting on the city building for about 13 years.
Erin McDaid, from Nottinghamshire Wildlife Trust, said the Newton building nest site has proved to be "prolific and productive" over the years with about three or four chicks fledging each year.
He said: "The nest site gives the birds every chance of survival, it's well protected [and] has a good source of food."
There were concerns that the four eggs had arrived too early compared to other known nest sites across the country, in London, Lincoln, Derby and Norwich.
Three chicks died on the same Nottingham site in May 2012 after severe cold weather.