Dambuster Studios using public faces for new Homefront characters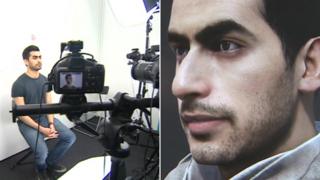 A video game designer is immortalising members of the public by using their faces in newly created characters.
Deep Silver Dambuster Studios, in Nottingham, is working on Homefront: The Revolution - a game based on life after an invasion of the United States.
The models are asked to pull faces while 12 cameras take simultaneous photographs of them.
An artist then converts the 3D image to their character in the game, which should be released next year.
The game is a follow-up to the successful Homefront, which was released in 2011 and has sold more than two million copies.
The advert for models on the studio's website has proved so popular that it has received international requests to be included.
"Right round the world we've been getting applications to the extent it's flooded, snowballed and brought our servers down," said studio head Hasit Zala.
Models, who are paid for their time, are asked to express a variety of emotions such as happiness, fear or excitement.
It then takes about a week for an artist to create a working head which will appear on an extra, or non-playable character, wandering around the streets of an occupied Philadelphia.