Shanay Walker came to school with bruises, teachers tell court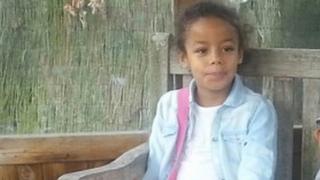 A seven year old girl who died of brain injuries had told teachers she would be beaten on her hands and arms if she was naughty, a court has heard.
Shanay Walker was found dead in her bed at her aunt's house in Beckhampton Road, Nottingham in July 2014.
A post-mortem examination showed she had more than 50 injuries.
Her aunt, Kay-Ann Morris, 24, denies murder at Nottingham Crown Court, and charges of cruelty against two other children in 2011.
Primary school teacher Lisa Hyland told the court she would dread daily "interrogations" from Ms Morris and the girl would come to school with bruises.
The teacher at Southglade Primary School described Shanay as well-dressed and "a happy child".
But she said in May 2013 Shanay had been off school for two weeks and returned with a bruised eye. She said teachers also later saw bruises on Shanay's legs and nose.
Notes from another teacher read out in court said Shanay had told them she would be beaten on her hands and arms with brushes if she was naughty.
She said if she was slow eating her aunt would stuff food in her mouth and if she wet herself she had to clean her own clothes, the jury heard.
The trial has previously heard Ms Morris was granted guardianship of Shanay in 2011 because the girl's mother, Leann, was struggling to cope.
Shanay's grandmother Juanila Smikle, 53, of Easegill Court in Top Valley, also denies cruelty charges relating to Shanay and four other children.
The trial continues.