Radford car park sex attack prompts £5,000 reward offer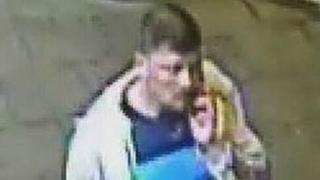 A reward of up to £5,000 has been offered for information about a sexual assault on a woman in Nottingham.
The attack took place in a car park on Randal Street, Radford, shortly after 02:00 BST on 12 April.
Police have released CCTV of a man with short dark hair, wearing a blue top and light jacket, seen walking on Radford Road at the time.
Crimestoppers, the charity which is offering the reward, described the attack as a "very distressing ordeal".
Ann Scott, Crimestoppers' campaigns manager, said: "It is quite rare for us to offer a reward which I think shows the seriousness of the offence and the lengths the police will go to to catch this person."