Nottingham street pastors get funding boost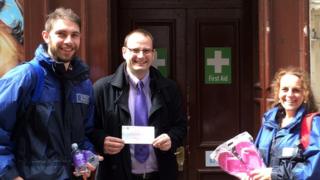 A number of organisations have donated £12,000 to keep street pastors operating in Nottingham.
The voluntary team, co-ordinated by The Malt Cross Trust, needs about £24,000 a year to help vulnerable people in the city at night.
The group was at risk of folding following a funding shortfall.
Donations from Paddy Tipping, the city's Police and Crime Commissioner and a number of others, will keep the pastors going for another five months.
Mr Tipping said the pastors kept people out of trouble and reduced demand on the police.
Jeff Allen, the chair of Nottingham Business Improvement District, which also contributed, said: "They make the night-time economy a better place to be and our membership, bars and restaurants, think this is a great service.
"Pastors will go and help people in a non-judgemental, non-critical way and that is key to the service they provide."
The volunteers help people who have got into trouble as a result of drinking to much and drug use, or have become a victim of violence or theft.
They offer first aid, give out flip-flops to drinkers who have lost their shoes and have also picked up thousands of broken bottles, as well as paying for taxis home for people.
Jo Cox-Brown, chief executive of the Malt Cross Trust, said the support had been amazing.
Donations also came from Nottingham City Transport and the INTU shopping centre group.