Nottingham's Tom Crawford loses eviction battle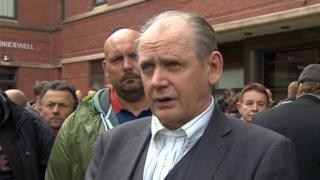 A man has lost his court battle against eviction after a bid to stay in his home was backed by thousands of people.
Tom Crawford was in a dispute with Bradford & Bingley, which claimed he owed £43,000 in mortgage payments on his Nottingham home.
A judge was forced to suspend an appeal hearing earlier this month because of fears it would spark disorder among supporters gathered outside.
Judge Nigel Godsmark has now lifted the suspension of a possession order.
But speaking outside court, Mr Crawford said he would not give up in the dispute, which began in 2012.
'Response not satisfactory'
Mr Crawford, 64, who has been treated for cancer, claimed he had paid off the endowment mortgage he took out in 1988, but the terms of his mortgage were changed without his knowledge.
Last year, a court ruled in favour of a debt recovery firm taking on the outstanding balance it was claimed he owed, and Mr Crawford was told to pay or lose his home.
However, while making his ruling, Judge Godsmark did query the amount demanded by the bank.
In his judgement, he wrote: "At the time of commencement of the possession proceedings arrears were said to total £1,802.90.
"When asked where [the amount of arrears] had come from, Miss Sandells for Bradford & Bingley told me that it came 'from the computer'.
"As computers should be our slaves and not our masters such a response is not satisfactory."
Support for Mr Crawford came from across the UK after a Facebook group was set up.
The campaign, which used the slogan We Are all Tom Crawford, attracted 3,408 members.
In January, more than 250 people blocked bailiffs from evicting him and wife Sue from their home, in Fearn Chase.
Mr Crawford said the public support he had received over his eviction appeal had been "fantastic".