Bullying victims 'turning to YouTubers for help'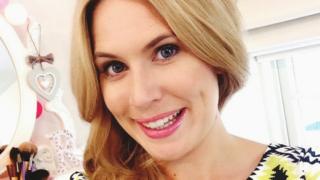 Bullying victims are turning to a YouTube vlogger who has also been repeatedly targeted by trolls over her looks for help.
Becky Sheeran said an "overwhelming amount of girls" contact her daily - including those who are ready to kill themselves "right there and then".
She and her sister Holly Sheeran, who also makes YouTube videos, have both become ambassadors for Bullying UK.
They now direct young people to the organisation to get the best help.
"I think they are turning to people online like YouTubers or people like myself because they don't know who to talk to," said Miss Sheeran.
"If we do not change this I personally believe more and more teenagers are going to kill themselves.
"We see stories in the newspaper about it but Holly and I see this on a daily basis."
Becky is campaigning for stricter laws to protect people being bullied online.
Trolling can be considered a criminal offence in some cases and the Crown Prosecution Service has published guidelines on prosecuting cases involving communications sent via social media.
The 27-year-old from Nottinghamshire makes a living by creating videos for her TalkBeckyTalk channel, which has more than 150,000 subscribers.
Like many YouTube creators, Miss Sheeran frequently receives extremely abusive comments online.
Dad 'deserved to die'
"Anything really from I hope my house burns down and all my family die to have I had a stroke because part of my face is wonky," she said.
"When my dad died it was all about how ugly he looked and he deserved to die and how someone was so excited that I had pain in my life.
Comments directed at her have affected her confidence, she said, to the extent that she stopped smiling in photos for two months because she became self-conscious of her smile.
"Although I love being on the internet, there are so many more pressures now and people are able to say the most awful things to you. I would not want to be a teenager growing up now with this kind of social media," she said.