Justin Bieber fan who changed surname reveals obsession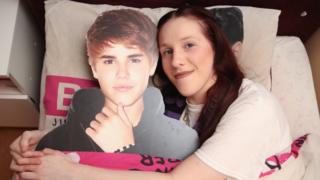 A woman who loves Justin Bieber so much she legally took his surname has gone public with her obsession in the hope he will meet her.
Gabrielle Newton-Bieber said she pretends they are married and believes he is "the only man for me".
The 22-year-old Belieber also talks to a cardboard cut-out of the star.
She has five Bieber-related tattoos and her home in Nottinghamshire is filled with merchandise and memorabilia.
Her obsession began when she was 16, at the same time Bieber released his debut single, One Time.
She begged her mother to let her change her name and, eventually, she relented and paid for the name-change as an 18th birthday present.
"I like him even more now than I did as a teenager," said Ms Newton-Bieber.
"I literally wouldn't go out with anybody else unless he had an identical twin or a lookalike."
Updates on this story and more from Nottinghamshire
Ms Newton-Bieber added: "I always call Justin my husband when I talk to people."
The supermarket worker has two tattoos on her ribs, two on her shoulder and one underneath a breast.
She is planning a sixth and hopes to meet Bieber when he performs in Sheffield in October.
"Honestly if I met him I would probably just burst into tears," she said.
"I do think if I won the lottery I would probably end up finding where he's living and move there."